Ricoh Theta - Spherical Report 360°
Submitted by Sam Rohn on Fri, 2014-04-04 04:51.
SPHERICAL REPORT 360°
A NEW PERSPECTIVE ON THE WORLD OF PHOTOJOURNALISM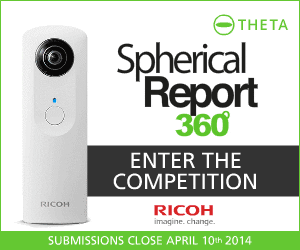 Spherical Report 360 is a new initiative to discover your view of the world - from 360 degrees. We want to give away 360 RICOH THETA cameras to aspiring photo-journalists and then reward the best pictures with prizes.
Find out how to win a RICOH THETA at CNN Spherical Report 360° !
RICOH THETA is the world's first ultra camera that takes spherical images with two lenses.
Capture the entire world around your RICOH THETA with a simple push of the shutter, and share easily on social networking services.
For details, please visit theta360.com.